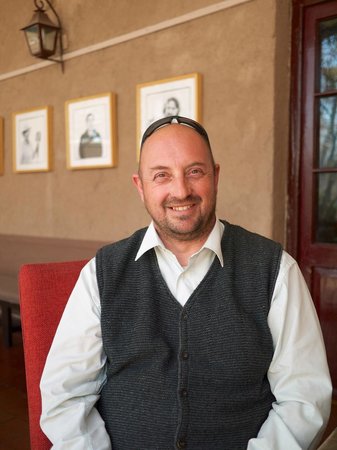 All you have to do is spend a few minutes on the Argentina forums of FlyerTalk or TripAdvisor before you see all the kudos for Miguel Sanz, a driver and personal tour guide for visitors to Mendoza. To call Miguel a "driver" hardly does his role justice. He's more like a concierge or chaperone. He can make appointments with the wineries, arrange a memorable lunch, and make just about anything happen. Since practically everyone's heard about Miguel, we thought it would be interesting for people to get to know him better.
Where is your hometown? Tell me about it.
I live about 15′ from downtown in a great city called La Heras. My house is in a calm residential area, where the kids are still playing outside without a problem.
How long have you lived in Mendoza?
I was born in Mendoza City and grew up there until I was 22 years old; then I moved to Canada for a period of 7 years. Than I came back to Mendoza for the holidays and decided to stay.
You have quite the fan base on TripAdvisor. Why do you think you've become so popular with Americans?
I guess because I understand the needs of the visitors and probably because I had great training working in the Park Hyatt and Cavas Wine Lodge hotel the first three years as a driver.
You worked in the wine business before you began Driving Mendoza, correct? Where did you work, and what did you do?
I have a degree in Export Marketing and Logistics and I did work in the wine industry. I worked for Familia Zuccardi as a Logistics Manager and also for Wines of Argentina too.
How did you get started driving visitors?
In February 2007 I had a full month off. My brother was a driver of a tourist agency and the owner needed to replace a couple drivers so they offered me to work for him 15 days. In those 15 days I drove many people and three of them wrote the manager of Park Hyatt a letter about my great service and knowledge, so the manager call my brother's boss and asked him to do what ever it took to keep me in the hotel. That's how I started.
How many days is a good visit to Mendoza, that gives people enough time to get to know the wineries and the region?
Well, there are three different regions to visit in Mendoza, so I would say at least three days.
Some people think renting their own car is a good idea. What do you think of that?
First of all, the rentals agencies don't have automatic transmissions. So if you don't know how to drive manual transmission, that is the first reason. We have zero tolerance in drinking and driving. And besides that, there are no good signs. GPS can help a little, but if the one you get isn't updated to the very latest version, you're still getting lost.
What are some of the less-discovered wineries that you think visitors should take more time get to know?
Well if I tell you all my secrets, my competitors will start to copy me.
Okay, I'll give you some: Altocedro, D'Angeles 1928, Sin Fin.
What if one of the member of a group is not a wine drinker? What other places and activities in the region do you enjoy taking visitors to?
There's many options, mountain trips all the way to the Aconcagua Park, outdoor activities like horseback riding, rafting, zip lining, trekking, 4-wheel drive tours on a road through the mountains, shopping tours. Night tours, etc. You ask and I provide.
What is the biggest mistake foreign tourists make when traveling to Mendoza?
Try to arrange the winery appointment by themselves. It's not impossible, but sometimes they make appointments each hour to try to get most of their day and they forget that some wineries are 30km apart and hidden.
What's your favorite story of something that has happened when you were leading a tour?
I was in La Azul restaurant and this guy told me that he was going to propose to his girlfriend. He did it with the surprise that I told everybody in the restaurant and we filmed all the proposal.
What are some differences to consider when you are choosing a driver or tour company in Argentina?
First, my tour is totally private and if you decide to come back after lunch to the hotel you can do it. You can choose your wineries, or at least share the names of the wineries that you like to visit. Sometimes it isn't possible because availability from them, but normally, we work it out. On a group tour you have fixed tours and you don't know what kind of people you will sharing the tour with.
How has the wine industry in Mendoza changed since you began giving tours?
A lot, because many wineries are open for tourists, so now we have more than 150 wineries to visit.
What do you see as the biggest change that will come in the next five years?
Well Argentina is just beginning. New investors will come and now with the new government that just started, I think this type of service will grow.