(3.5 / 5)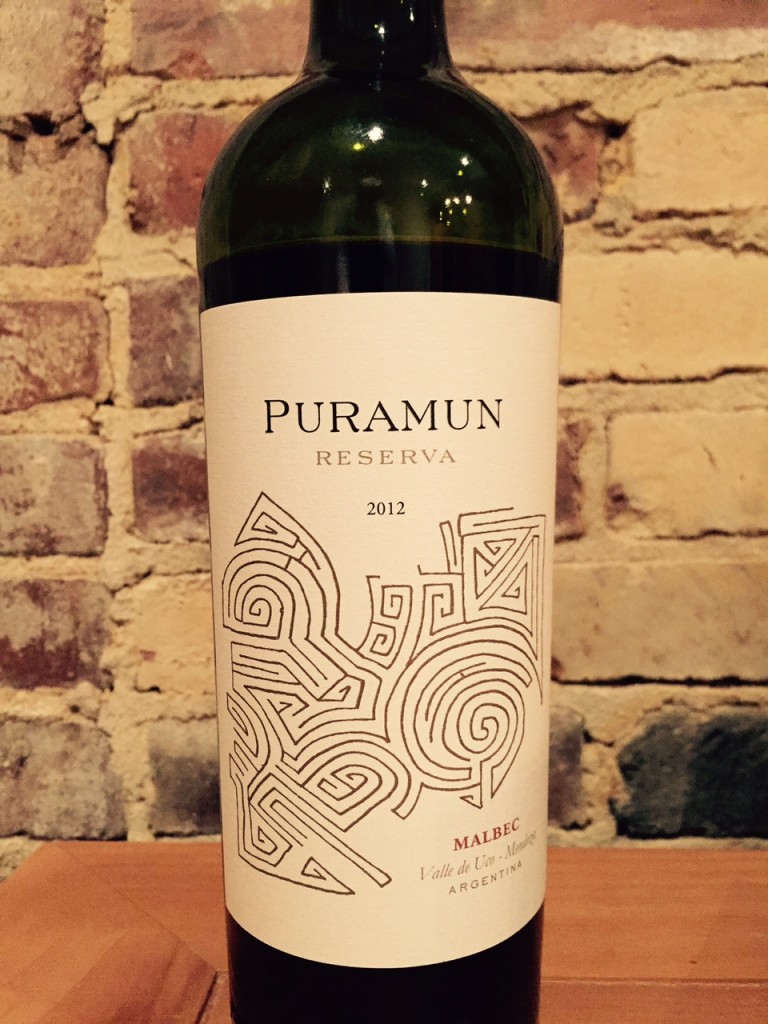 Many thanks to Vino del Sol (one of our favorite US importers) for hosting a "Surprise Argentina Tasting" tonight at the Western Market in Birmingham, AL – one of the best places to buy wines in that city.
They featured some of the excellent low-priced single vineyard wines from Bodegas Lamadrid ($14-17 ), as well as Altocedro Reserva ($38). But for us the sweet spot of the evening was the wine you see here.
Puramun Reserva ($25) comes from the Uco Valley and is the personal project from Pepe Galante, who was the chief winemaker at Catena Zapata from 1976 to 2010. So you can definitely say he has some experience with premium Argentine reds. The 100% malbec is aged for 12 months in 50% new oak and 50% second-use French oak.
Puramun means "harvest" in Mapuche, and Galante chose to have a maze (redrawn in a different shape every year) on each label, to symbolize that getting the best out of each year's vintage is a constant challenge.
How does it taste? It's a big, New World red, to be sure. Let's just say it wouldn't be Neal Martin's cup of tea. Wine Enthusiast's Michael Schachner gave this wine a lowly 87… he found it not as expansive as he would have liked, but I disagree – I think that score is too low – I quite enjoyed it and would drink it again. Wine Spectator gave this bottle a 90 – and I think that's more in the ball park. That review shows a price of $39, but it was $25 at tonight's tasting as well as online.
At that price, it's a good bottle to take home with your next ribeye.