Just a pic for now. Expect a full report soon…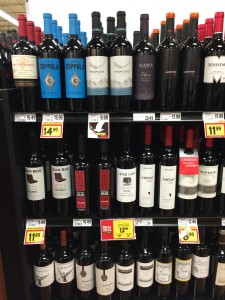 (2 / 5)
Love me some Target. Good prices, great pharmacy and a bit more fashion sense than other discounters.
But for all its much-vaunted design sensibility, Target isn't terribly on target when it comes to Argentine red wines.
The selection is nothing to write home about, lacks even some of the common quality high-volume labels (even finding Catena malbec is hit or miss, depending on which location you are at) and the selection tends to skew towards those cute-label brands rather than anything labeled with the name of an actual winemaker who is proud of his craft.
If I had to pick up something here, it would be the Alamos Seleccion, which got a 90 from Robert Parker. It says Catena on the label and it is a product of that family but it's from different vineyards and is actually imported by (gasp) Gallo.
Second choice would be Punto Final but the reserve version of this wine is much better than the black label.
The Terrazas (huge seller in the States) is appropriately located on the bottom shelf. I'm not a fan of their wines.
Personally, I would buy my socks, grab a Starbucks latte, and plan to make one more stop at the wine store before heading home.